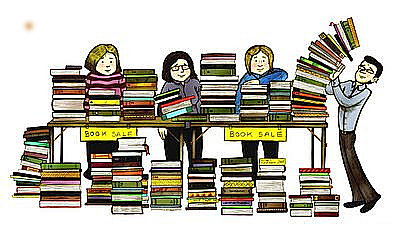 Friends
We appreciate your generous donations! 
To Join or Donate: Please use our convenient PayPal button or respond to our 

Friends 2023 Brochure. 
We would also like your input on the Book Nook items.
BOOK NOOK SURVEY FORM
The Friends continue to run mini or Pop-Up sales of books and plants in the entry hall and outside, as the weather permits.  Please stop by to browse!

---
Who We Are
Organized in 1984, the Friends are Brainerd Memorial Library supporters who work to enrich library services in the community through volunteering, fundraising, and serving as advocates for the Library's mission.
---
This is the Friends PayPal button to accept your generous donations!
Click to Access PayPal.  Scroll for Membership & Merchandise button. There is no fee.  Thank you!
---
Please only donate gently used, clean materials.  We cannot accept moldy, dirty, or damaged items.  Thank you so much!
Please visit the Book Nook for the Best Deals on books and media year-round!  For your convenience, you can pay for your items at the Circulation Desk with cash, checks, or credit cards.
---
Our Goals
· Focus attention on Brainerd Memorial Library
· Stimulate use of Library's resources & services
· Aid in providing adequate library facilities
· Support the Library in developing library services & programs in the community
· Continue to support the freedom to read & free access to information
What We Do
· Promote the Library at community events
· Maintain the Friends' Book Nook to sell used books & audio visual materials

· Offer BML merchandise [visit our mini shop in the rotunda!]


· Purchase special gifts for the Library
· Conduct monthly planning meetings
How We Help
· Support library programs
· Fund staff development
· Purchase recorded books
· Support the Museum Pass program
---
How You Can Help!
Friends' membership is open to anyone interested in supporting & improving the service facilities of the Library. Membership categories are listed below in our PayPal menu & forms are available at the library or here:
---
---
Please consider attending a meeting. Willing volunteers are needed to help with activities, especially the maintenance of the Friends' Book Nook.
The Friends usually meet each Thursday at 10:00am in the Community Room.
---
Here is Dee Link!
She is a long-time member of the BML Board of Trustees & Friends.  On Feb 5th 2021, the Friends and BML staff wished Dee a Happy 100th Birthday!  Along with her photo is a bio from her daughter.
---